"You'll either love it or hate it."
That was the advice of a relative when I told him we were heading to Portmeirion for an overnight stay and a bit of McKinlay Kidd exploration of this corner of Wales. My main knowledge of the name related to the pottery. A large bowl delicately painted with primroses, a wedding gift from many years ago, sits collecting sea glass and wine corks on our window ledge. It's too striking and pretty to give away but not quite enough to my taste to spark a larger collection. With this in mind, I imagined its place of origin to be rather quintessentially British – or more precisely Welsh, conjuring up images of bustling women in frilly pinnies serving cream teas. "It's like Sorrento only in Wales," continued the relative, "so it's a bit odd."
Portmeirion is also famous as the location for the 1960s drama The Prisoner. This was before my time, so did not add much to my expectations, other than making me think it would be a rather remote and cut-off location, perhaps even a bit spooky. Other friends who live not far away in Chester had urged us to visit. "It's a classic McKinlay Kidd place," they said, "We know how much you love quirky. Just be prepared to be a little forgiving – it's not five star luxury all the way – there are a few rough edges." After so many mixed messages, there was only one thing for it – we had to visit and experience it first-hand.
William Clough-Ellis dedicated most of his life to the design and build of Portmeirion from 1925 to 1976. Born in 1883, he had a dream from an early age to create a lasting legacy: a model village in a gorgeous location, to prove that architecture could enhance rather than destroy natural beauty. A man after my own heart, he firmly believed in the importance of tourism. After years of searching for the ideal spot, he finally acquired this corner of a Snowdonian peninsula. His first move was to bestow the present-day name and convert the existing dilapidated mansion into a hotel to provide ongoing income for further development. The Amalfi Coast genuinely was his inspiration, though more specifically Portofino.
We arrived in early afternoon, turning off the main road and up a long and leafy lane. It was late August, but a rather overcast and drizzly day. The village is a mecca for day-trippers by the coachload, and it did indeed have a veneer of overt tourism. We were staying overnight at the hotel, so were allowed to bring our car inside the entrance arch, navigating carefully through the ambling hordes of visitors. Unsure of our bearings, we parked up at the first opportunity – later needing to move the car to its rightful reserved spot down by the shorefront at the hotel.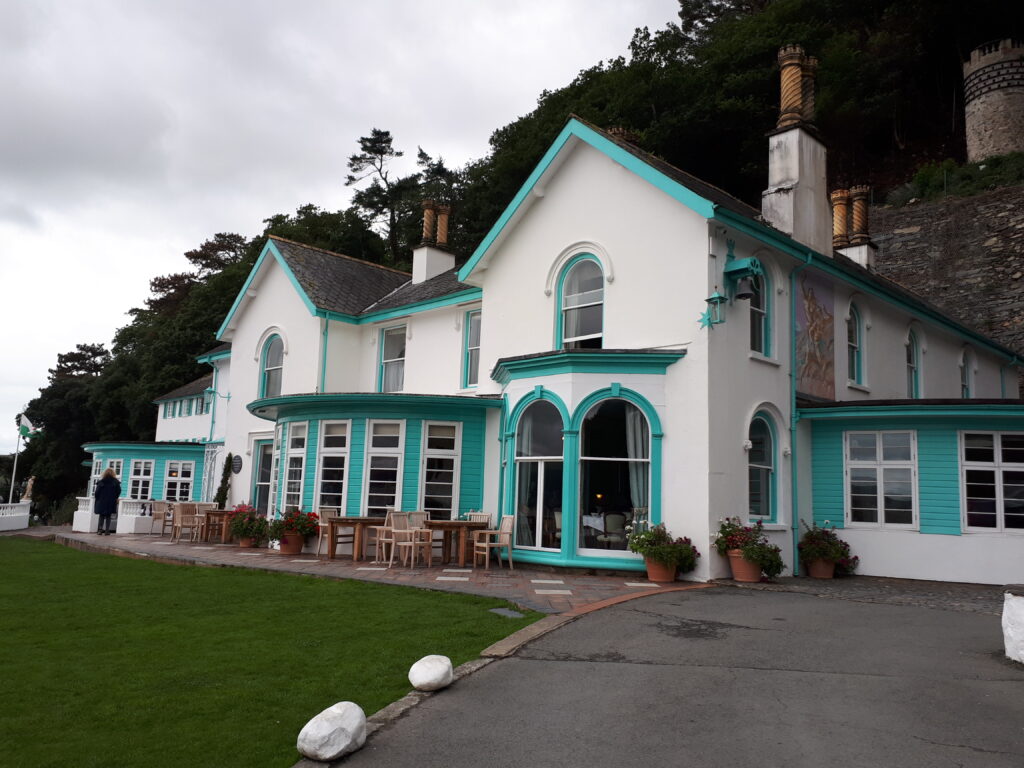 We headed off down the cobbled street. Already I was feeling a little overwhelmed and not sure which way to turn – there was so much to take in. Even in dreary weather, the pastel colours lifted our spirits. Every building had an interesting shape and elaborate decoration. In between, careful planting of poplars, geraniums and other bright specimens did create a Mediterranean feel, further enhanced by ornamental ponds, niches, mosaics and decorative stonework. Even in mid-afternoon, the place absorbed its many visitors well – shops, cafes, restaurants and the little train that leads you up the woodland path accounted for a fair share, creating space to roam between the buildings and around the hillside to the coast. The situation on a tidal estuary is captivating, the wide expanse of sands and water inlets further adding to the feeling of space and openness, reflecting even the haziest of light to brighten a dreary day.
I spent the rest of the afternoon just wandering around the village in child-like wonder, trying in vain to capture the feeling in snaps on my phone – today's cutting-edge tech fails to do justice to either the intricate details or the overall frisson of Portmeirion.  Gradually the bustle subsided, handing the village back to those lucky enough to be staying overnight – either at the hotel or in one of the many cottages and villas dotted throughout. As night fell, so did tranquillity. Lights softly sparkled, subduing the pastel tones further. The tide rushed in, devouring the sand, leaving one feeling cut-off, but in a cosy rather than scary way.
It's true that some may find Portmeirion a touch artificial and out-of-place. It's true that not everything is perfect – it is run by a charitable trust and ongoing upkeep is never-ending. But for me, it had a very genuine atmosphere. I found the many local people who work there to be nothing but passionate about the place. I feel I only scratched the surface when exploring – there is an intriguing story at every turn. Clough-Ellis was a magpie collector, gathering up antiques and artefacts, transporting them to Portmeirion and installing them – from cannons along the battlements and rows of lucky cats above the hotel fireplace to a whole 17th-century barrel-vaulted ceiling, now the roof of the Town Hall building. But it's more than the history, more than the realisation of a creative vision. It impacted me within moments of arriving, even on a grey day and I couldn't stop throughout our stay.
If anyone in future asks me what Portmeirion is really like, and whether they should visit, my answer is simple: "Just go. It will make you smile."
Words and images by [email protected] McKinlay Kidd.
McKinlay Kidd offer a stay in Portmeirion as part of our 'Best of Britain and Ireland' holiday – a 15-night odyssey covering the best of the UK and Ireland. As always, a stay in Portmeirion can also be included in a tailor-made trip – just get in touch and we will be delighted to help.