McKinlay Kidd founder and director, Heather McKinlay, recently wrote a blog about how we shouldn't see a domestic holiday as something to settle for, but rather as a first-choice getaway that can more than rival international destinations.
I have been incredibly fortunate to see a lot of Scotland over the last couple of years, but I must admit that in 'normal' circumstances, my longer holidays each year tend to take me abroad – road trips through various countries including Germany, Austria, Italy – plus a week in Las Vegas!
Given the current circumstances, my partner and I decided still to take a road trip, but make it a little closer to home. The North Coast 500 seemed to fit the bill perfectly – but how would it compare to our further-flung trips in the past?
Put simply, it was our best holiday yet.
We drove the route anti-clockwise – or east to west – and the contrasting scenery is utterly breath-taking throughout. Leave yourself a lot of time to complete each section of the route – I can guarantee you will be stopping frequently, simply to marvel at the landscape unfolding around you.
The weather was fantastic – warm, with the occasional day of dazzling sunshine that lit up the land we were travelling through. Even the rainy spells were enjoyable, creating thundering waterfalls that provided welcome stopping points and opportunity to stretch the legs amidst the driving.
The roads were quiet – certainly much quieter than they would normally be in August. Wildlife-watching opportunities were in abundance – white-tailed eagles swooped overhead in Torridon; a curious seal popped out at the water's edge near John O'Groats, content to watch us going about our business; and we were just in time in the season to catch delightful clown-faced puffins (my personal favourites) waddling around the cliffs at Dunnet Head.
The true highlight however was a day we spent walking in Torridon and Shieldaig, basking in glorious sunshine with the paths to ourselves, towering peaks surrounding us at every angle. Unfortunately, there was one group that didn't adhere to social distancing guidelines – a pesky cloud of midges, who set their sights on us the second we stepped out of the car!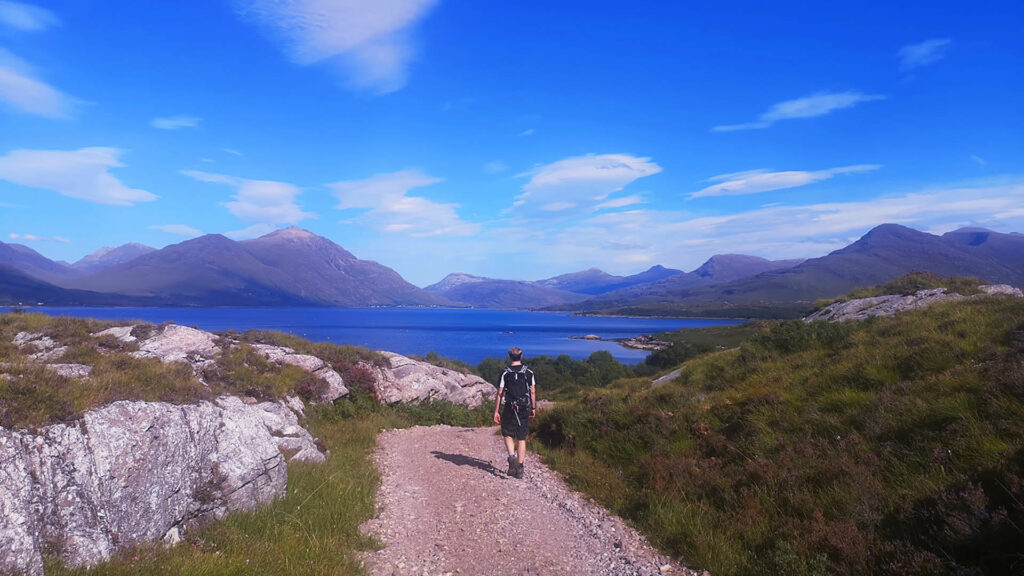 Our experience throughout was that accommodation providers, restaurants and retailers are adhering closely to government guidelines to provide safety without infringing on the holiday experience, allowing you freedom to create unforgettable memories.
Wonderfully, it seems like McKinlay Kidd's customers agree. We have had some intrepid explorers hit the road in Scotland and England in the last couple of weeks, and their experiences have been overwhelmingly positive.
Many of our business partners around the UK are delighted to be welcoming visitors into their area once more. One customer, Eleanor, who recently flew to the Outer Hebrides, said the following when asked about her favourite memories:
"Fantastic scenery…the friendliness of the residents on the islands. The beach at Vatersay Bay was amazing, with just the most beautiful sand."
Private touring – although functioning slightly differently – is still thriving and certainly a worthwhile holiday experience, as discovered by our recent customer Donna in Northumberland:
"Hadrian's Wall Tour was excellent. Kevin was brilliant and knew everything about the Romans and their time in Britain. Highly recommend."
Perhaps what has delighted us most of all has been the feedback from customers about our team. We are so pleased to be planning and organising trips once more, and comments like this one from Alan are truly what make it worthwhile:
"Absolutely incredible trip to the Scottish Highlands… communication has been first class and I would have no hesitation recommending McKinlay Kidd and booking with them again in the future."
The last few months have been a learning experience for us all, and for me, a key lesson is to continue to really appreciate the beauty on my doorstep. You most definitely can have an unforgettable holiday in your own land. Once you know where to look, there is beauty around every corner. Here at McKinlay Kidd, we would be delighted to help you discover it, in 2020 and beyond.